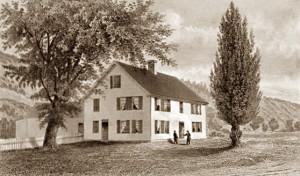 The History of Fletcher Farm Foundation, Inc.
In 1933 Mary Fletcher, Mary F. Charlton and Fanny B. Fletcher conveyed certain properties to Fletcher Farm Inc. with the intention that the properties shall be used for educational or welfare purposes, and be a memorial to Allen M. Fletcher Sr., Governor of Vermont from 1912-1915.
The properties in the towns of Ludlow and Cavendish are comprised of farmland, fields, woodland and buildings some of which were the original farm homestead of the Fletcher Family.  Some buildings were added later as gifts from Fletcher and Charleton and to suit the needs of specific educational programs.
Personal property conveyed at the time of incorporation was designated as an endowment fund, the net income from which was to be used for maintenance, equipment and the expansion of the real property.  A board of trustees made up of over 20 members is committed to upholding the Fletcher family mission.
In 1897, Allen M. Fletcher the youngest son of Stoughton Fletcher purchased a parcel of land in Ludlow on July 7, 1899 with plans to build a library, a memorial to his father.  The Fletcher Memorial Library receives at least $40,000 in annual support from the Fletcher Farm Foundation and in 2002 additional $50,000 was given by the Foundation to the  library's capital campaign to ensure handicap accessibility.
The Society of Vermont Artist and Craftsmen has used the Fletcher Farm property I Ludlow since 1948 for a summer craft school with registration open to Vermonters and others.  The Fletcher Farm Foundation subsidizes the tuition for permanent residents of Ludlow and Cavendish, giving them the ability to attend classes for one half the normal cost.
In the summer of 2007 the one time corn fields owned the Fletcher Farm Foundation were transformed to soccer and softballs fields to be used by the towns of Ludlow and Cavendish for recreational purposes.
2008 brought the total renovations of the farmhouse taking great care to preserve many items and recreate matching molding throughout the farmhouse.
Over the years, the Fletcher Farm Foundation has made its property available to many educational groups.  A partial list of those groups who have benefitted from the use of the property includes Stepping Stones Preschool, Boy Scouts of America, Black River Good Neighbor Services, Mental Health Services of Southern VT, Vermont Occupational Training Center and Adult Day Care Services,  Opportunity's in Learning, Chester School System and a Community Garden.